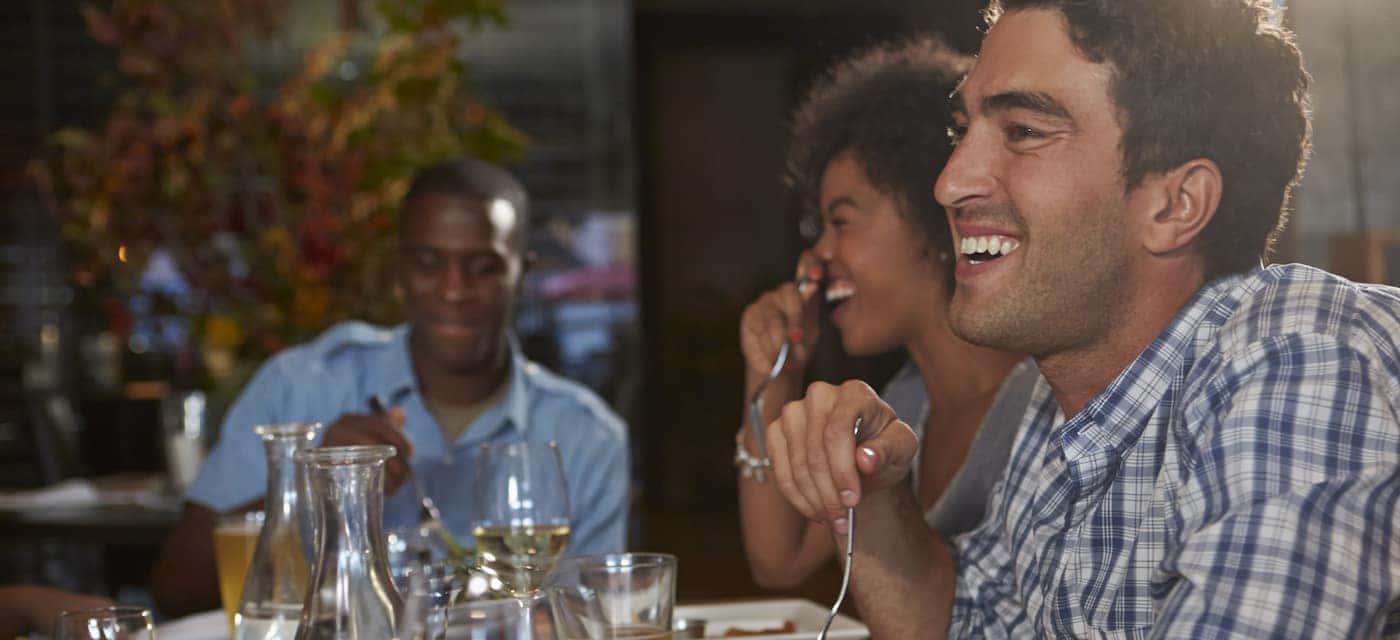 When we're not selling Chevrolet, Buick, Chrysler, Dodge, Jeep, Ram, Fiat vehicles, our sales, service, and finance teams love to eat the best food Longview, TX has to offer. (We do get out once in a while, you know.) Engaging in the community has given those of us here at Peters Chevrolet Buick Chrysler Jeep Dodge Ram Fiat quite a few opinions about the best food in the area. Read our suggestions below, then stop by to tell us which spots we forget and to maybe test drive a new RAM 1500!
Nanny Goat's Cafe
A bit of an oddball, Nanny Goat's Cafe (1401 Judson Road) is actually inside of Kyle's Kwik Stop. Don't let that fool ya, they have fantastic breakfast and lunch. From great sandwiches and wraps, to hearty salads and Nanny Goat's homemade pickles. They could easily become your new favorite lunch spot!
Bubba's 33
Pizza, beer, and TV's with the latest game—what more could you need? Bubba's 33 (200 E. Loop 281) has amazing hand-tossed, stone-baked pizzas, gargantuan burgers, and a friendly atmosphere. If you're not in the mood for typical pub fare, try the Southern Fried Chicken (which comes covered in country gravy and is served with garlic mashed potatoes), or the Seasoned Salmon (8 oz filet of salmon with chili-rubbed seasoning and honey lime sauce).
FUJI Japanese Restaurant
FUJI (3098 North Eastman Road) is just one of many great sushi restaurants in Longview, serving more than 100 traditional Japanese dishes. Share some appetizers with friends, from tasty Edamame to Tuna Tataki sushi. For those who aren't enthused by the concept of sushi—we love it, but understand it's not for everyone—there are always traditional dishes like teriyaki chicken or beef.
Notable Mentions
There are just too many great restaurants in East Texas for us to write about! Here are a few notable mentions…
Mi Casita — 324 North Spur 63 — For those on the go who need a giant burrito.
Tuscan Pig Italian Kitchen — 401 S High St — Expect fine Italian food from Tuscan Pig.
Dudley's Cafe — 1601 E Marshall Ave — Offers the very best cajun food Louisiana has to offer.
Peters Chevrolet Buick Chrysler Jeep Dodge Ram Fiat Loves Local Longview Food
Peters Chevrolet Buick Chrysler Jeep Dodge Ram Fiat employees love Longview, TX, and by extension, the great businesses serving tasty food. Not only will we tell you about the latest Chevrolet features when you come by, but we'll also swap stories about our favorite restaurants near Longview, TX. Whether you have questions about the latest Chevy Camaro or suggestions for a new ice cream place or pizzeria to try, reach out! We'd love to hear from you.