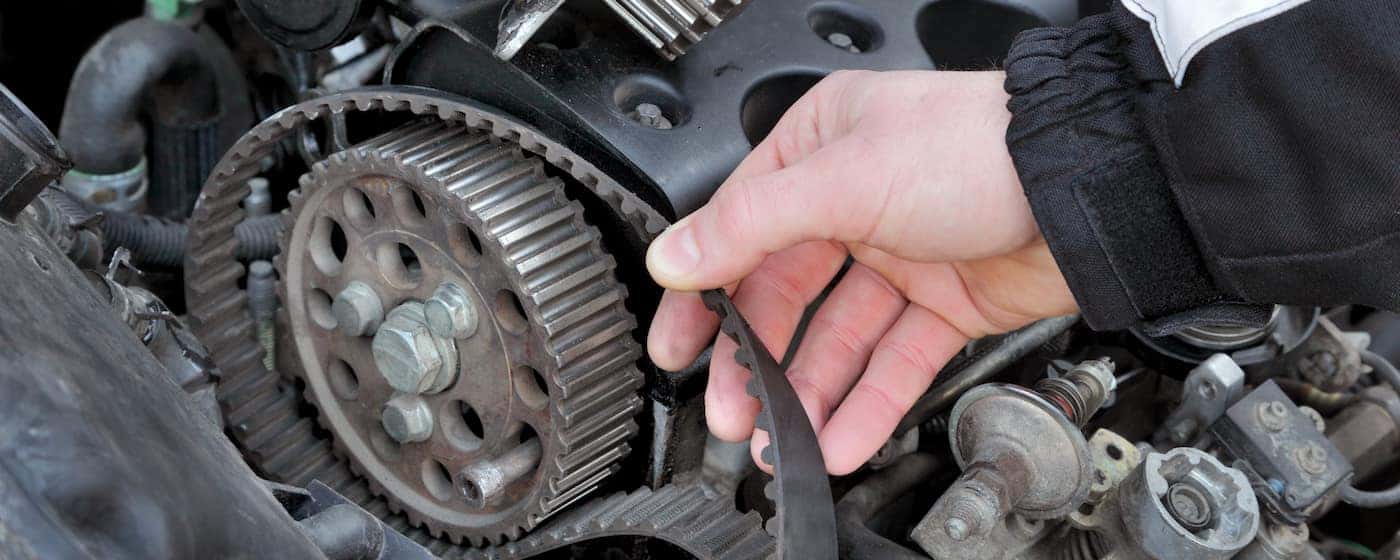 A vehicle's timing belt (or cambelt), are extremely important for keeping internal combustion engines running. The job of the timing belt is to harmonize crankshaft and camshaft rotation, and if both are synced up properly, then your vehicle's pistons and valves will operate correctly. This is important because, as fuel is being ignited in the combustion chamber, your vehicle's valves control fuel/air mixture intake and exhaust gas and push your pistons down. So, no matter if you're driving a brand-new car or a pre-owned vehicle that's years old, you'll want to be certain you have a working timing belt. Learn more about the timing belt with Peters Chevrolet Buick Chrysler Jeep Dodge Ram Fiat below!
How Much is a Timing Belt?
When a timing or cam belt isn't working properly, then your vehicle's valves won't be synced up correctly, meaning the pistons can be damaged. This can cost you up to more than $2,000 if multiple parts are damaged as the result of a faulty timing belt. If you haven't experienced further damage and are able to bring your vehicle into a service center, then Tyler and Longview drivers should still be ready to pay upwards of $1,000 for a new timing belt alongside labor expenses. It is typically recommended that you replace your vehicle's timing belt between every 60,000 and 100,000 miles.
Signs Your Car Needs a New Timing Belt
No matter if you have a timing chain or a rubber belt under your hood, problems with either part are easy to notice. Take a look at the following warning signs, and if you know your car is experiencing these problems, then schedule a service at Peters Chevrolet Buick Chrysler Jeep Dodge Ram Fiat's service center in Longview, which is just a short drive from Marshall. Here are problems with a timing belt you can look out for:
The engine misfires
Ticking noise coming from the engine
Oil leaks from the front of the motor
The engine acts up between 2000 – 4000 RPM
More smoke and fumes than normal
The engine won't turn over
Get More Car Maintenance Tips from Peters Chevrolet Buick Chrysler Jeep Dodge Ram Fiat
If you have further questions concerning your vehicle's timing belt or think you have a faulty one, then contact us at Peters Chevrolet Buick Chrysler Jeep Dodge Ram Fiat. Our helpful representatives will be able to help you and can even schedule a service time that you can come in. When you need new equipment or accessories for your car – like the RAMBox® Cargo Management System – be sure to take a look at our available parts. You can also see if select parts are covered by your Chevy, Chrysler, Jeep, RAM, or Dodge warranty.