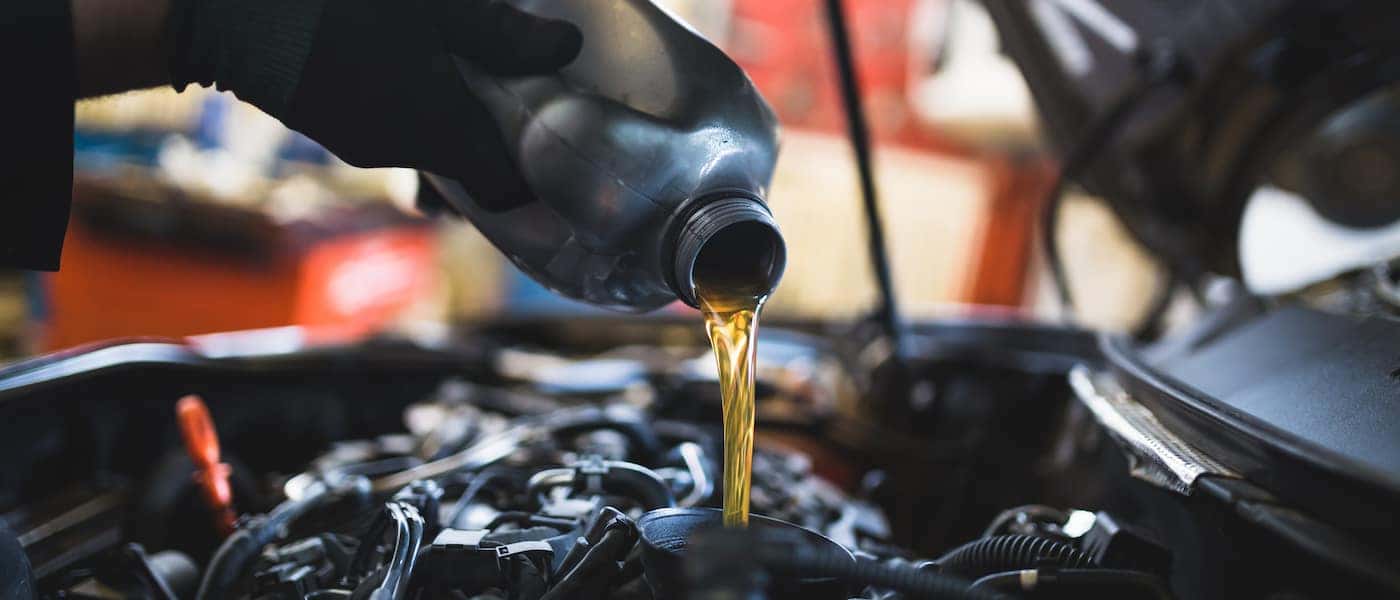 Your engine is full of small parts that work with one-another to keep your vehicle running smoothly and with efficiency while you drive through Longview. To keep those parts working properly, your engine needs oil. Oil acts as a lubricant that prevents your engine's parts from creating too much friction or seizing. If it's been a while since your last oil change you may be wondering what happens if you don't get your oil changed. Read along with Peters Chevrolet Buick Chrysler Jeep Dodge Ram Fiat to see what happens if you don't change your oil. You can also schedule an oil change at our service center or contact us with your questions.
Why Should I Get my Oil Changed?
Everything has a "best by" date, and over time your oil will age and break down as it cycles through your engine. When oil breaks down it becomes a less effective lubricant because it's lost its viscosity and has picked up numerous small pieces of debris from your engine. The thinning oil and debris it carries will increase the friction between engine parts, and if you neglect to change your oil, you risk damaging these small interlocking pieces that power your vehicle.
So, what happens when you don't get your oil changed? As your oil loses its viscosity and picks up debris, sludge will begin to form in your engine that will cause damage to parts or cause them to not function properly. As the friction builds in your engine, the heat will as well, which will cause your engine to overheat often. In extreme cases, parts of your engine will seize and become immovable, which will require costly repairs or render the car unsafe for Tyler roads.
What Does Motor Oil Do?
As we mentioned above, oil acts as a lubricant for your engine, but it also has other important roles that help your engine perform properly:
Oil is used to reduce friction and by effect, the wear and tear on the moving parts in your engine.
By lowering friction, oil moves heat away from the engine, which keeps the engine temperature down.
Oil improves the lifespan of piston ring seals.
If you change your oil in accordance with your vehicle's maintenance schedule, oil can neutralize acids that come from fuels, this protects your engine parts from damage.
When you shop for oil for your vehicle in Longview, you may notice that some oil comes with dispersants or detergents added to them. These types of oils can help clean out sludge or build up that forms in your engine. While these detergent oils are useful for minor fixes, you will still need to replace your oil at the recommended intervals to maintain your engine performance.
How Often Should I Change My Vehicle's Oil?
In general, vehicles can go between 7,500 to 10,000 miles before they need an oil change. However, your oil change schedule will depend on how you drive your vehicle. If you use your vehicle in high-performance situations like off-roading or towing loads at your Marshall job sites, then you may need to have your oil changed more often. The best way to tell how often to change your vehicle's oil is to refer to your owner's manual.
Get Your Oil Changed at Peters Chevrolet Buick Chrysler Jeep Dodge Ram Fiat
Now that you know what happens if you don't change your oil, read more of our service tips to learn DIY home car maintenance like how to change your transmission fluid, what antifreeze is, or how long an oil change takes. Then contact our service center to set up an appointment to have your oil changed and learn which oil is best for your vehicle. We look forward to hearing from you!