How to Check Your Transmission Fluid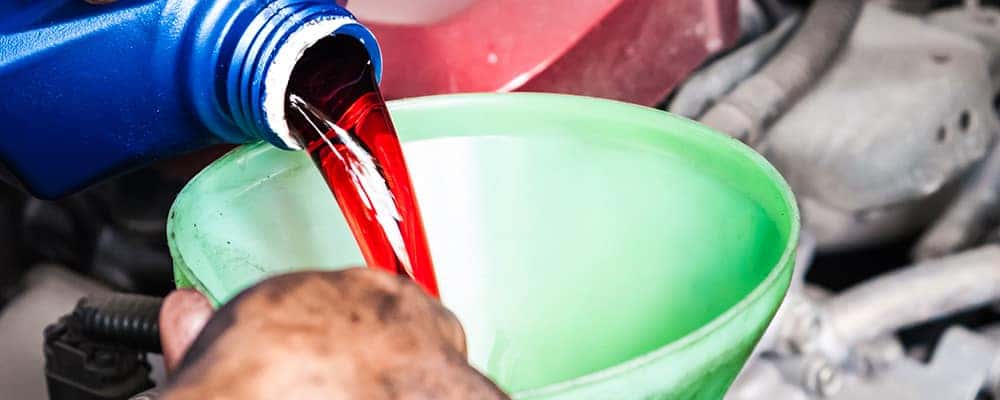 When you know how to check your transmission fluid, you can catch serious issues long before they begin to cause long-term problems. The process can be completed in a few simple steps:
Ignite the engine and let it run. You can't get a proper read on your fluid levels unless your engine is warmed up.
Locate the transmission fluid dipstick in your vehicle. In most front-wheel drive vehicles, it's directly to the right of the oil dipstick. You can always check your owner's manual for a precise location.
After removing the dipstick, take up some of the fluid and move it between your thumb and forefinger to test viscosity. Transmission fluid is normally next-to-clear, with a light pink hue. If yours looks dirty or smells vaguely burned, you'll need to have it looked at by an expert.
Now that you've assessed the quality of your transmission fluid, it's time to check the level. Wipe off the dipstick with a rag and then reinsert it into the vehicle. When you pull it out again, the fluid level should be at or above the "Full" line. If it isn't, you're in need of a refill.
To avoid spillage and waste, pour new transmission fluid into your vehicle using a funnel. If you're unfamiliar with the process, check the fluid level regularly as you refill. Overfilling can lead to serious issues.
The technicians at Peters Chevrolet Chrysler Jeep Dodge Ram Fiat area always happy to help our neighbors in Gilmer, Marshall, and beyond. If you run into trouble or have a question that needs to be answered, don't hesitate to reach out.
How Often Do You Check Your Transmission Fluid?
It's important to check your vehicle's transmission fluid levels as part of your regular maintenance schedule, and we recommend that you check all of your vehicle's important fluids roughly once per month. Check your power steering fluid and engine oil levels at the same time to make your life a little easier.
Keep an eye out for the symptoms of low transmission fluid. If you have trouble shifting gears or notice gear slippage when you're cruising through Longview or Winnsboro, there's a good chance that you're in need of a refill.
Tips for Checking Your Transmission Fluid
Transmissions are exceptionally complex bits of machinery, so you'll want to explore these tips before you set about checking your fluid levels on your own:
Before you buy replacement transmission fluid, check your owner's manual for recommendations. Different models require different types of fluids.
If you drive a car with a manual transmission, you may need to get underneath the vehicle to access a plug. Unless you have a jack on hand, it's probably easier for you to bring your vehicle into our service center.
If you're having trouble shifting gears, low transmission fluid could be the issue, but this symptom could also be a sign of a more serious problem. If you don't notice any problems with your fluid, schedule service with us right away.
Experts recommend that drivers change their transmission fluid once every 50,000-100,000 miles, depending on how they drive and what kind of transmission fluid this vehicle suggests. Check your owner's manual for details, and err on the side of caution.
Learn More About How to Check Your Transmission Fluid at Peters Chevrolet Chrysler Jeep Dodge Ram Fiat
Peters Chevrolet Chrysler Jeep Dodge Ram Fiat is proud to provide the Tyler area with grade-A service and genuine OEM parts. We're also happy to provide service tips and information–like what a timing belt is as well as the purpose of antifreeze–and answer any questions you have, so don't hesitate to contact us today! There's never a bad time to bring your vehicle in for a checkup, and if you've paid us a visit before, we'd love to hear about your experience in a review.
More Service Tips From Peters Chevrolet Chrysler Jeep Dodge Ram Fiat
Most people already know that antifreeze is one of their vehicle's most important fluids, but too few actually understand why it's necessary and what it does. If you're unsure, simply read on for answers to the following antifreeze questions. What is Antifreeze? How Does Antifreeze Work? Why is Antifreeze Important? Schedule Service What is Antifreeze?…

Schedule Service Contact Us When you know how to check your transmission fluid, you can catch serious issues long before they begin to cause long-term problems. The process can be completed in a few simple steps: Ignite the engine and let it run. You can't get a proper read on your fluid levels unless your…

Most people don't realize when they've locked their steering wheel until they try to drive somewhere. If your key isn't turning in the ignition or you are having a hard time starting your vehicle, there is a good chance your steering wheel may be locked. There is no need to fret, unlocking a steering wheel…